2022 Volunteer of the Year
Darren
Darren, NW Natural's Chief Legal Counsel, was recently named 2023 Volunteer of the Year for applying his passion for history and education to serving the community.
We recognized Darren for his work on the Board of Trustees of the Oregon Historical Society. "At the OHS, we want to tell the story of all Oregonians," Darren said. "We are interested in bringing Oregon's history to life, sharing new stories and new voices."
He cites his family's influence as the motivation to volunteer, because giving back to the community was part of his upbringing.
For example, Darren serves on the Board of Directors of the nonprofit OnPoint Community Credit Union, which has a history of serving teachers and reflects his interest in education.
Through the years, he has also provided Certified Financial Planner financial-planning services pro bono to those with limited incomes. "I find it rewarding to coach people on finances, helping them sharpen skills they can use for the rest of their lives to take control of their financial future."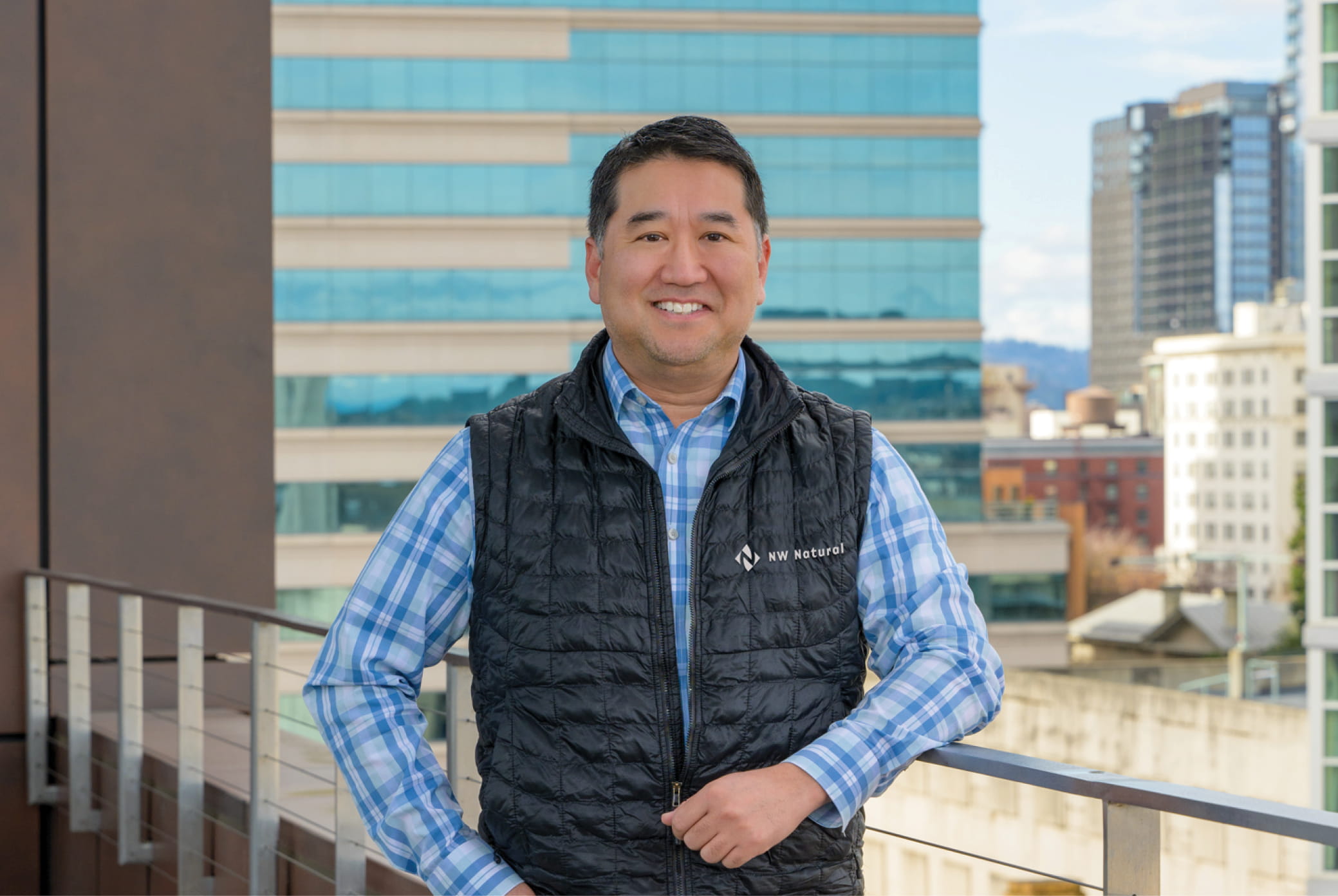 Construction intern to crew leader
Tony
Tony had no experience with underground construction when he joined NW Natural's Construction Intern program in 2018. Today, he is the first program graduate to lead a construction crew — a position that typically comes after seven or more years of experience in the field.
The internship program provides paid on-the-job training to traditionally underserved and underrepresented groups, preparing them for potential full-time employment at NW Natural.
"The goal is to become a very diverse department and give an opportunity to those who wouldn't have one," said Jim Hart, gas operations senior manager.
Before joining NW Natural, Tony wasn't looking for a career. "I started working when I was 9 or 10, and a job was always just another job – something I needed to do," he said. The construction internship seemed like a good job when his dad, a crew leader at NW Natural's Albany Resource Center, urged him to apply.
During the short time it has taken Tony to be promoted to crew lead at the Mt. Scott Resource Center, he realizes he has more than just a job. "I didn't anticipate the advancement it was possible to achieve," he said.
Tony credits his success at NW Natural to hard work and support from his mentors in the field. "The guys around me were fantastic about getting me to the level I needed to be at," he said. "Without them, I wouldn't be where I am."
Leading a crew carries some weighty responsibilities Tony didn't have before. "You need to make sure no one is going to be a hazard, and when you're a crew leader everything falls on you," he said. Relationships with his colleagues keep him going, as they have from the beginning. "Having the crew trust and like you, knowing your supervisors have confidence you can do the work, feels good," he said.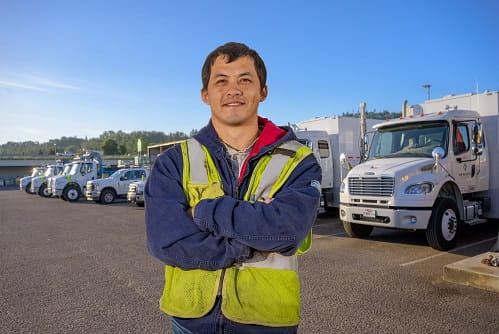 2021 VOLUNTEER OF THE YEAR
John
John – NW Natural's 2021 Volunteer of the Year – spends much of his spare time visiting U.S. Veterans Administration facilities. He sits in waiting rooms and talks to veterans who look like they could use some support.
"You can see it in their faces," he said.
The suicide rate for veterans in Oregon is significantly higher than the national rate, and John's VA visits are part of his commitment to saving veterans' lives. That mission is behind Operation Spartan Flags, a nonprofit he created to support veterans having difficulty re-entering civilian life.
The mission of the organization is to reduce suicide and the effects of PTSD among veterans by creating opportunities and networks where veterans can pursue a new skill in an environment of camaraderie, support and healing.
Operation Spartan Flags is just the latest endeavor in John's life of service, which started with four years in the U.S. Marines. He was deployed to hot spots all over East Asia and the Middle East. Since he joined NW Natural in 2003, he has served in the Air Force Reserves and the U.S. Coast Guard.
"While in the Marines, I made a pact with myself that if I made it back, I would do whatever I needed to help young men know that their lives are worthwhile," he said. Every day, he works to fulfill that pledge.
For his longstanding dedication to his community, John was honored with the 2018 First Citizen Award from the Wilsonville Rotary Club. NW Natural is proud to recognize him as the 2021 Volunteer of the Year.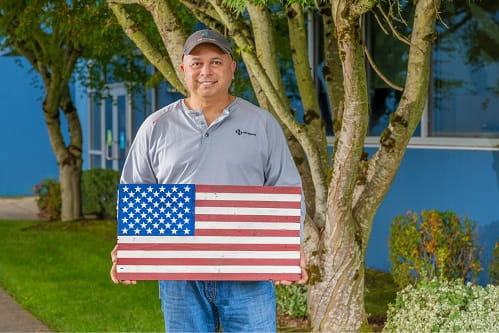 Advocate for the environment
Sonia
Growing up in the Bay Area, Sonia – a NW Natural customer service technician – spent a lot of time on her grandfather's sailboat. Those days on the water instilled a deep appreciation for the environment and ocean conservation, and she went on to study environmental protection in community college.
As she studied climate change, she learned to think holistically – a perspective that led her to start a small agriculture business. The work was meaningful to Sonia because it showed her the value of a circular economy focused on conservation, eliminating waste and reusing the resources we have.
Now, from her role at NW Natural, Sonia sees how our community's energy system can also be a deeper part of the circular economy. The natural gas system is highly efficient. Trying to replicate that on the electric system would require new infrastructure and development. But we don't need to waste those new resources when we can reuse the natural gas infrastructure we already have, and reduce emissions with renewable natural gas and renewable hydrogen that also eliminate other waste streams.
"A circular economy that uses waste for energy allows us to be creative problem solvers," she said.
Customers Sonia talks to often tell her how much they value NW Natural's service, and she is heartened by their continued support and interest in our low-carbon future. "Three people mentioned it to me just today," she said.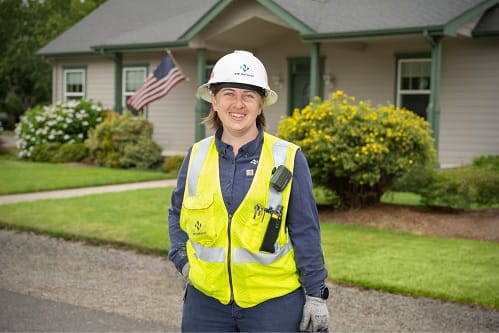 Mentoring makes a difference
Ray
Growing up in The Bronx of New York City, Ray participated in after-school, summer, and college- and career-guidance programs through his church and community center, where he learned the value of having mentors to encourage and support him.
After he moved to Portland with his wife Karin in 2016, Ray – an Account Manager on our Major Account Services team – wanted to give back, and quickly discovered Self Enhancement, Inc. (SEI). As Oregon's largest African-American-led nonprofit multi-service organization, SEI provides comprehensive cradle-to-career services to over 16,500 vulnerable youth and families every year.
"SEI's emphasis on encouraging youth to meet their potential really spoke to me," Ray said. He began as a volunteer, providing support and serving as a role model for young people, and today he serves on the SEI board of directors.
Ray notes that COVID-19 has required SEI to adapt to ensure it can continue supporting the families it serves. The nonprofit's homeschooling initiatives, which include providing tablets to facilitate remote learning, have moved to the forefront. And SEI counselors check in with students regularly by phone to keep them motivated.
Ray is also one of the founders of the NW Natural African-American Employee Resource Group.
"During this time of upheaval, when people are isolated at home, I felt it was important for us to create a space where African-American employees could share their experiences."
Reflecting on his volunteerism, his work and his community involvement, Ray said, "I've learned that just showing up, having a heart, and giving back makes a huge difference."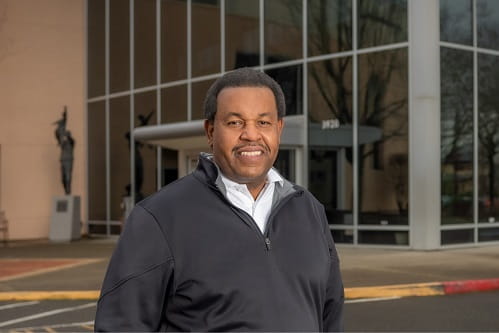 March for Babies leader
Willa
As a student at Colorado State University, Willa got involved with the March of Dimes through her sorority. Zeta Phi Beta, a historically Black sorority, has a longstanding partnership with the nonprofit, which works to ensure all moms and babies have access to health care.
Now the manager of NW Natural's Customer Contact Center, Willa started by participating in the annual March for Babies walk to raise money for the March of Dimes with her sorority. And for the last 14 years, she has been the sorority's local team captain.
"I believe in the work the March of Dimes does, and I'm passionate about the health of babies and mothers," she said. "Babies born to Black women in the U.S. are over one-and-a-half times more likely to be born prematurely than babies born to white women. I want to help change that statistic."
Acting on that desire, Willa served as March for Babies chair in Portland in 2019 and 2020. The event raises money to help give mothers and babies access to the best healthcare possible, with proceeds supporting pregnancy care and neonatal intensive care nursing.
Although the March for Babies addresses serious issues, Willa says the event is filled with positive energy. "It's all about families and children," she said. "And it's fun."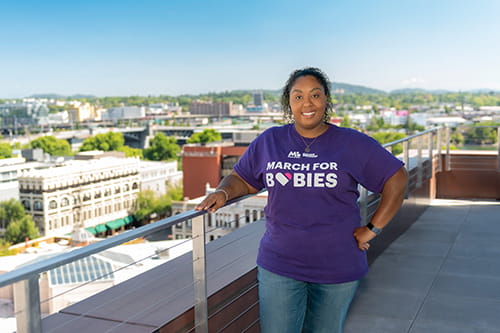 Caring for their community
Lincoln City Team
Last year, when the Newport News Times asked readers to vote for the company with the best customer service in Lincoln County, they chose NW Natural. But the company's ties go beyond excellent customer service. Employees based in Lincoln City are as much a part of the area's social fabric as seafood and sand – and most of them can say, "We grew up here."
Just about everyone in town knows Tim, Lincoln City field supervisor, who is a lifelong resident. A tireless volunteer for charitable causes, he was a volunteer firefighter in the community and is now a reserve police officer. Cindi, the community affairs manager, gives new natural gas customers personalized support and represents NW Natural in philanthropic and civic efforts. And the tight-knit group of Lincoln City field employees perform service installations and manage the integrity of one of the most modern pipeline systems in the nation.
Making a difference in a crisis
The Lincoln City team was at the center of the response effort when the Echo Mountain Fire erupted in September 2020. Even though they had been evacuated from their own homes, crews, with help from many other NW Natural technicians, construction workers, and managers, quickly mobilized to ensure customer and community safety.
"Thanks to everyone who supported the response, we were able to repair and cut services in the fire areas and restore service to customers who were turned off for safety when the fire was spreading," Tim said. "We could not have done it on our own."
Tim, Cindi and others worked long hours at NW Natural's incident command center helping customers safely return home. And as Lincoln City Rotary Club president, Cindi also helped lead an effort to provide grants to people who lost tools and equipment in the fire.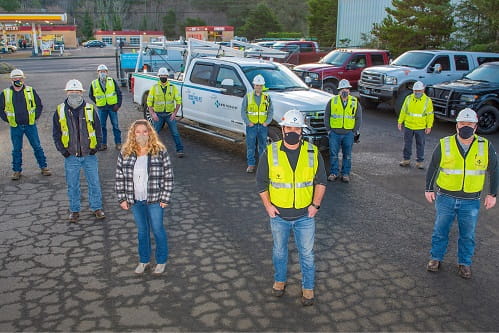 Passion for service
Spanish Resource Team
When a Spanish-speaking customer calls NW Natural Customer Service, our Spanish Resource Team is ready to help them. The team — Rebecca, Maria, Maribel, Lydia, Judi, Victor, Salvador and Joel — delivers the same high-quality service NW Natural is known for.
Every member of the team has a personal passion for service, and their dedication to serving Spanish-speaking customers runs deep.
Rebecca sees her work as a continuation of a commitment that began when she was 13. "My parents never learned English, so I translated for them a lot," she said. "I'm so happy I can be there now for people who don't speak English."
When Victor moved from Mexico City to Portland as a teenager, he didn't speak English, and that experience helps him serve customers. "I remember when I had to call about bills and needed someone who could speak my language," he said. "I've been there. I know what it feels like."
Salvador, who has been helping NW Natural's Spanish-speaking customers for nine years, said, "I get a lot of satisfaction from how happy the customer is to talk with someone who can speak with them in their language."
In addition to taking customer-service calls in Spanish and English, the team supports other Spanish-language needs across NW Natural. Judi, who oversees the team, said, "We go wherever we're called, and we deliver on NW Natural's core value of service every day."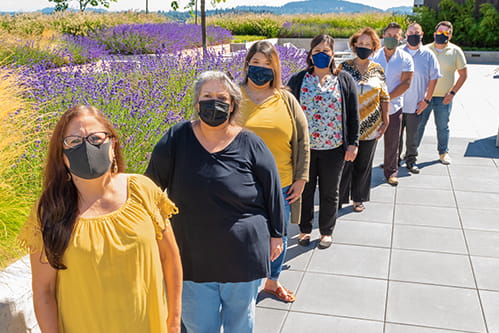 Oregon 811 ambassador
Bryan
What do snow cones have to do with safe digging? NW Natural employee Bryan brought them together as a way to teach kids about the colors used to mark underground utilities on the street. A former member of NW Natural's damage prevention team, he has been active in the Oregon 811 program for years and has built a reputation for creative ideas to promote public safety.
Bryan came up with the idea to bring a snow cone machine to community events and encourage kids to order their favorite flavor of snow cone based on the color of underground utility markings, including green (sewer), yellow (gas), blue (water), red (electric) and orange (communication).
"From our first event, the snow cones were a big success in educating kids about underground utility safety," he said. "The idea has really taken off and is now used by utilities across the country."
Last year, Bryan's unwavering commitment to damage prevention earned him the first-ever Morrison Award from the Oregon Utility Notification Center, the state agency that administers Oregon's excavation laws and locate requests.
In nominating Bryan, his former supervisor said, "Bryan has been a damage prevention leader for over a decade. His efforts as an Oregon 811 ambassador continue to influence new people coming into the industry and will for years to come."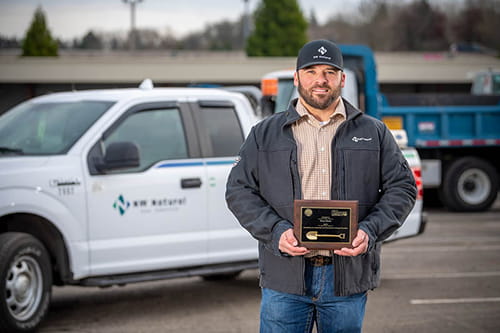 Register your account online.
View and pay bills, see gas use, and compare use over time.