While we work to fuel the Pacific Northwest with natural gas every day, we also innovate new, sustainable ways to meet the demands of the region's growing population.
Renewable natural gas is produced from organic materials like food, agricultural and forestry waste, landfills and wastewater. With recent advancements in technology, the gases from those waste streams can now be cleaned up and added into our pipeline network to serve homes and businesses. This turns the problem of waste into a powerful climate solution using our pipeline network already in place.
About renewable natural gas
Where does renewable natural gas come from?
Renewable natural gas potential
How much renewable natural gas is possible?
Nationwide,
RNG production
potential is estimated to be 10 to 30 times greater than current production. In 2021, the number of production facilities in the U.S. grew
33.5%
.
A recent study, conducted by
ICF Consulting through the American Gas Foundation
, estimates the technical potential of renewable natural gas supply is substantial when compared to current natural gas throughput. In fact, when looking at development costs and existing technologies, the report estimates there is enough potential renewable natural gas to achieve a 95% reduction in emissions in the residential sector.
The supply estimates from the ICF report do not include the potential for renewable hydrogen for the pipeline network or the impacts of deep energy efficiency to reduce future energy use. With these collective innovations pursued together, the company believes a carbon neutral vision for the gas pipeline network is possible.
Renewable natural gas future
What it means for the future
Replacing more and more of our natural gas supply with renewable natural gas in our existing pipeline infrastructure, combined with energy efficiency and wide adoption of our carbon offset program, will yield the fastest and most affordable results for our communities and the planet.
RNG supplies are growing with over 750 RNG facilities either online or under construction in North America, up from 50 less than six years ago.
NW Natural has completed two interconnect projects to inject RNG into our distribution system, and a third is scheduled for completion in 2022
We're actively procuring RNG for our customers
Renewable natural gas benefits
Reduces carbon emissions
Renewable natural gas is a zero-carbon resource produced from local organic materials such as food, agricultural and forestry waste, wastewater or landfills.
Replenishes naturally from decomposing organic materials.
New innovations give us the ability to capture that methane and transform it into renewable natural gas

—

stopping the environmental damage before it starts and creating a valuable new source of energy.
Works with the same equipment and appliances that deliver and use natural gas.
Used in vehicles today.
Renewable Natural Gas supply
Supply potential is vast and there's no need for new appliances or pipelines.
Today, 757 project are operational or under construction in North America (up from about 50 in 2017).
The United States is playing catchup, but accelerating development spurred by state carbon policies and IRA.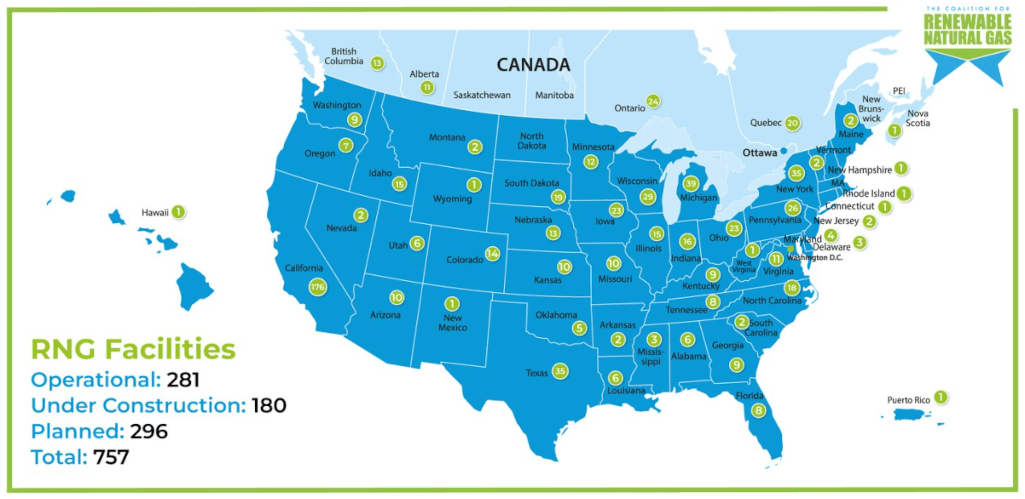 Renewable Natural Gas feedstock
Renewable Natural Gas Projects
We believe NW Natural created the nation's first dedicated RNG team at a natural gas utility in 2021. The team's mission is to help us meet SB 98 targets and secure renewable supply at favorable prices for our customers. We have been vigorously pursuing contracts and establishing long-term relationships with RNG producers, developers and feedstock owners to procure RNG. In 2021, we had agreements with options to purchase or develop renewable natural gas totaling 3% of our current annual sales volume in Oregon.
We're on track to procure enough RNG to get to at least 5% of our annual sales volume within the next two years and we've got sight lines to reach the voluntary target of 10% by 2029. For context, wind and solar generation currently supply just 14%
3U.S. Energy Information Administration, Electricity Explained
of our nation's electricity—after more than two decades of active development and public policy support.
Oregon rulemaking for SB 98 wraps up, allowing NW Natural to deliver renewable energy to customers
Rulemaking for Senate Bill 98 (SB 98) is now complete, giving NW Natural a clear path to acquire renewable natural gas on behalf of customers, and forging the way for this newest renewable resource to be an increasing part of the state's energy supply.
NW Natural worked collaboratively with legislators and renewable natural gas stakeholders to create SB 98, a groundbreaking bill that was signed into law by Oregon Governor Kate Brown in 2019. Since then, the Public Utility Commission of Oregon (OPUC), consumer groups and natural gas utilities have been working through a rulemaking process, so natural gas utilities can begin procuring renewable natural gas under the legislation.
Renewable natural gas is a zero-carbon resource produced from local organic materials such as food, agricultural and forestry waste, wastewater or landfills. The gas can be cleaned and added into the existing natural gas system, where it is fully interchangeable with conventional natural gas.
We're excited to use this landmark law, one of the first of its kind in the nation, to acquire a renewable product for our customers and bring our region one step closer to a clean energy future. Another important benefit is that local communities now have a potential revenue source to turn their waste into energy.
More information about SB 98
Happening now: NW Natural renewable energy programs
Replacing diesel with natural gas in Portland
The Less We Can campaign: inspiring action toward a low-carbon, renewable-energy future
Become a Renewable Natural Gas or Hydrogen Supplier
We are currently seeking new supply opportunities
We are continuously looking to partner with organizations to increase our supplies of renewable gas. We are interested in the sale of a total or partial interest in existing or development gas projects or for the sale of pipeline-quality RNG or hydrogen. We seek RNG resources and/or associated environmental attributes from around the country and from a wide variety of feedstocks and sources. To start the conversation, contact us at
renewables@nwnatural.com
.
Register your account online.
View and pay bills, see gas use, and compare use over time.