Bring your expertise to NW Natural.
At NW Natural, we offer rewarding career opportunities and a vibrant work culture. We invite you to join us in providing safe and reliable utility services and renewable energy to better the lives of the communities we serve.
Our vision is to be the leader in service excellence, innovation and environmental stewardship for our customers, while building on our strengths as a trusted energy provider and environmental leader for our industry.
In addition to environmental stewardship, we're deeply committed to Diversity, Equity and Inclusion. Our DEI Council started 21 years ago, and today we continue to foster a culture where all employees can experience a sense of belonging, shared purpose and possibility. We continue to broaden that work through a growing fleet of Employee Resource Groups (ERGs), which offer employees the opportunity to connect and influence our workplace culture:
African American ERG
Asian American Network
Somos Unidos, LatinX ERG
Rainbow Alliance, LGBTQ+ ERG
Women's Network
Veterans ERG
Neurodiversity Network
To see some of the most important work more than 1,200 NW Natural employees are focused on, please explore our Environmental, Social and Governance Report, and check us out on social media.
Over the years, I've had the pleasure to work with some of the kindest, funniest and most generous people in the universe. NW Natural feels more like a community than a company, and it's this quality of culture that has kept me here longer than any other organization I've ever worked for. I am always amazed at the opportunities and experiences the company allows me to explore and participate in both professionally and socially.
One of the things I love about NW Natural is our size, and how it shapes our culture. We're big enough to be influential in our community and make a real impact in the climate change conversation, but we're small enough that everyone can make a personal impact.
NW Natural is committed to its employees and their community and cultural values
At NW Natural, our Employee Resource Groups offer employees opportunities to connect, grow and be heard. Cultural celebrations, training sessions and ongoing projects invite all of our employees into an ongoing diversity-and-inclusion conversation. At NW Natural, your perspective will be valued and your voice will count.
We are an Equal Employment Opportunity employer.
Diversity, Equity & Inclusion Council
Through the development of various diversity programs, NW Natural is focused on embracing community and cultural values.
Learn more about our DE&I work
Environmental, Social & Governance Report
Read about some of the most important work we're focused on for our employees, communities, and environment.
View the report
Health and wellness
Health and wellness
NW Natural covers 75% – 85% of your premium for medical and dental insurance.
Generous employer contribution to Health Savings Account for High Deductible Health Plan participants (Non-Bargaining Unit only).
Flexible Spending Accounts for dependent care, health care and parking.
Earn up to $450 cash incentive though participation in wellness program.
Employee Assistance Program offers free counseling, financial advising and other services
Work life balance
Work life balance
Non-Union: Up to 184 hours vacation time and 80 hours sick time. Union: Up to 168 hours paid time off.
10 paid federal holidays, plus 3 floating holidays to celebrate cultural and personal days.
Flexible work arrangements.
3 weeks paid parental leave.
Modern 1,500 sq.-foot exercise facility and secure bike room.
Financial
Financial
Generous 401K company contribution and match.
NW Natural stock 15% discount on Employee Stock Purchase Plan.
Up to $5,250 a year in tuition reimbursement.
Discounts
Discounts
20% off NW Natural gas service.
Up to 30% discount at NW Natural Appliance Center.
Public transportation annual pass for all employees who work at headquarters.
Generous discounts with Verizon and AT&T Wireless and other major retail brands.
Employee recognition
Employee recognition
The formal employee recognition program at NW Natural, "Above & Beyond," recognizes those employees whose efforts are outstanding. Employees are nominated by their peers and/or leaders for actions that demonstrate the following:
Promoting a caring culture
Operational excellence
Helping build for the future
Above & Beyond—Employees can be nominated for doing ordinary jobs in an exemplary manner or for doing something totally new and different. Employees are nominated by their peers and/or leaders.
Service Awards—Employees are recognized for their years of service at NW Natural every five years.
Movie Tickets—Managers/Supervisors are provided with movie tickets every year to assist in employee recognition efforts.
NW Natural is an Equal Employment Opportunity Employer.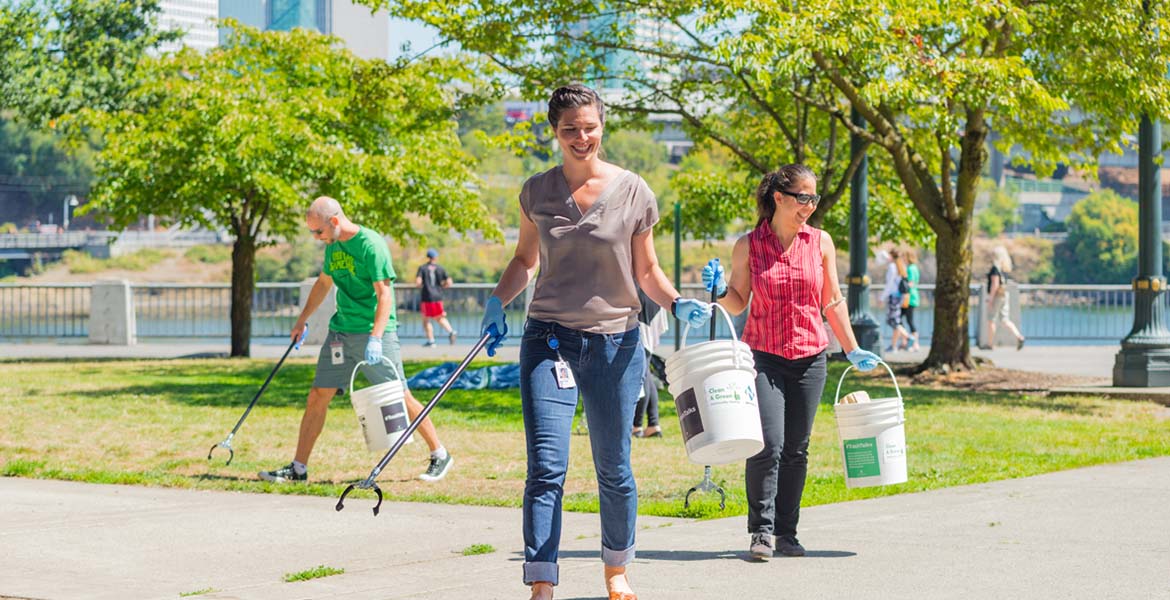 Volunteerism and support across the region.
We're committed to giving back to our communities through philanthropy and volunteerism. We make employee volunteerism possible through our Dollars for Doers program, and NW Natural shareholders donate to nonprofit organizations serving children, families at risk and environmental stewardship.
NW Natural is proud to be an equal opportunity employer.
We welcome and embrace our candidates' diversity and take affirmative action to employ and advance individuals without discrimination on the basis of race, color, sex, gender identity or expression, sexual orientation, religion, age, physical or mental disability, veteran status, pregnancy (including childbirth or related medical conditions), national origin, marital status, genetic information, and all other legally protected characteristics. We forbid discrimination and harassment in the workplace based on any protected status or characteristic. A criminal history is not an automatic bar to employment with NW Natural. Instead, we make individualized assessments regarding qualifications and backgrounds. NW Natural is also committed to providing reasonable accommodations for individuals with disabilities, individuals with sincerely held religious beliefs, and disabled veterans in our job application procedures. If you need assistance or an accommodation as part of the application process, please contact us at employment@nwnatural.com or (971) 979-6341.