Less We Can
Helping our region move to a low-carbon, renewable-energy future.
Our Low Carbon Pathway
We believe NW Natural has an important role to play in helping our region move to a low-carbon, renewable-energy future. It's why we've developed our Low Carbon Pathway, and it's why we invite you to join us.
Greenhouse gas emissions
in Oregon
Today, natural gas is the cleanest energy option to reliably meet our region's biggest energy needs. In fact, NW Natural delivers more energy in Oregon than any other utility, [1]/*Oregon Public Utility Commission, 2015 Oregon Utility Statistics Statbook */yet our customers' use of natural gas — in homes and businesses — accounts for 6% of Oregon's greenhouse gas emissions. [2]/*State of Oregon Department of Environmental Quality In-Boundary GHG Inventory Preliminary 2015 Figures*/
Still, we know that we can do even better. So our mission is to work with all our stakeholders, from producers to policymakers and regulators to customers, on a voluntary carbon savings goal: 30% by 2035.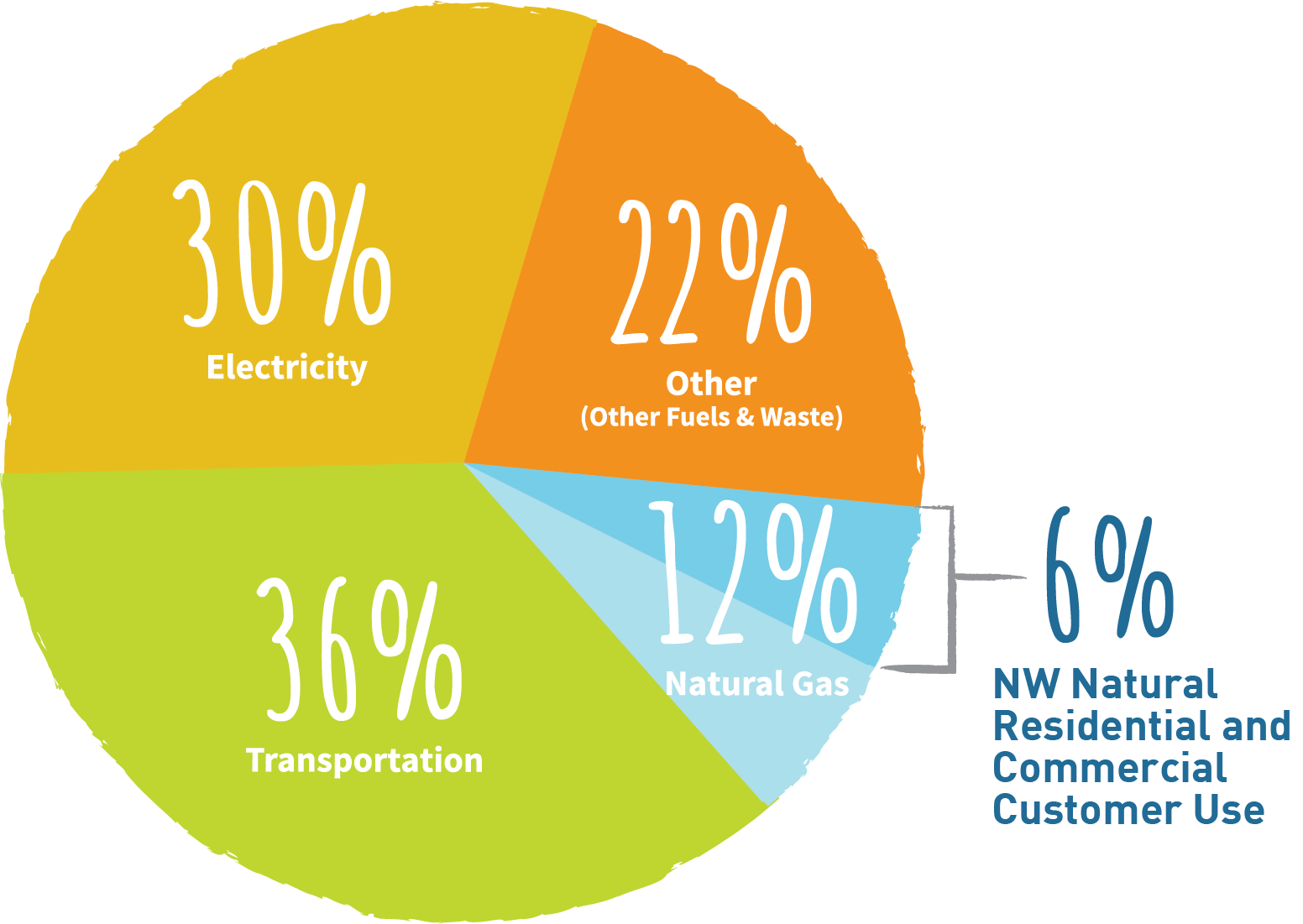 NW Natural is creating a better energy by design.
Our Progress
We are on track to meet or exceed our voluntary carbon savings goal of 30% by 2035 associated with our own operations and the use of our product by residential and business sales customers from 2015 emission levels. In addition to the actions we have taken operationally, this voluntary goal has been a catalyst for us to lead beyond our walls by building public policy coalitions that support innovation and new thinking. And we're proud of the progress we've made.
We have also established our vision forward to be a carbon neutral energy provider by 2050.
Going beyond 2035: Destination Zero.
As we are making progress on our 2035 goal, we are evolving our thinking on what's possible for our system based on promising advancements in renewables for the pipeline system.
To achieve our goals, we will continue to look for reductions throughout the natural gas value chain, from producers to our own operations and customer use, to the transportation sector.
Our goals are focused on collective action to:
Lower the carbon intensity of the product we deliver using a mix of technologies and renewable energy sources.
Pursue energy efficiency and offset projects.
Replace dirtier fuels with clean-burning natural gas or renewable natural gas.
Keep it affordable by using our existing system — one of the most modern in the U.S. — in new, innovative ways.
Expanding the possibilities
2016 - NW Natural establishes a voluntary carbon savings goal of 30% by 2035 from 2015 emission levels. [4]/*
This is an annual emissions savings goal equivalent to 30% of the carbon emissions from our customers' gas use and company operations in 2015 */
2019 - First-of-its kind Oregon RNG legislation passed that supports targets of up to 30%. NW Natural team travels to Europe to research efforts underway there to transform the natural gas networks to use decarbonized energy.
2020 and Beyond - Leverage renewables in our existing modern system along with other innovations to pursue a carbon neutral system for our sales customers by 2050.
NW Natural and its customers leading the way
NW Natural's modern system
NW Natural's modern system
NW Natural was one of the first utilities to replace all older pipes, making our system among the most modern in the U.S. An Environmental Defense Fund study led by Washington State University found that methane emissions on our system were 90% lower than EPA assumptions. This analysis shows that less than one-tenth of one percent of the gas that flows through our pipes doesn't end up getting used by our customers, making our system one of the tightest in the nation.
Driving down emissions
Driving down emissions
While we work to add renewable natural gas to our system, NW Natural is also aggressively pursuing other emission reduction solutions:
Replacing older pipes and equipment has resulted in an incredibly tight and efficient system that limits greenhouse gas emissions.
NW Natural purchases natural gas from Canada and the Rocky Mountain regions—two of the most stringently regulated (i.e., minimal methane leaks) production areas in North America.
We have developed an emissions screening tool that uses EPA data to prioritize purchases from the lowest emitting producers.
NW Natural is a founding member of the EPA's Natural Gas STAR Methane Challenge, designed for utilities to share emission-reducing best practices in pipeline construction, maintenance and repair.
We are also a member of ONE Future, working to promote science-based technology and best practices for dramatically lowering greenhouse gas emissions.
Conserving
Conserving
The fastest and cheapest way to lower emissions is to use less energy. Since 1970, NW Natural residential customers have cut their energy use and emissions in half. Through our partnership with Energy Trust of Oregon and our customers, we expect to have saved enough energy by 2035 to heat 230,000 homes annually.
Using efficient equipment
Using efficient equipment
We're working with nonprofit organizations like the Gas Technology Institute and Northwest Energy Efficiency Alliance to encourage innovation through new products like gas heat pumps, Zero-Net Energy homes, fuel cells and microgrids, solar thermal heating systems and other progressive technologies that use less energy. These new technologies have the potential to reduce energy use by 40% or greater, while still serving the same energy needs.
Offsetting
Offsetting
Our Smart Energy program offers customers a voluntary opportunity to offset some or all of the carbon from their natural gas use by funding biogas projects on local farms. The program's mantra, "Use Less, Offset the Rest," makes clear that along with aggressive efficiency, offsets are a valuable tool to address remaining emissions.
Renewable natural gas future
Renewable natural gas future
Replacing more and more of our natural gas supply with renewable natural gas in our existing pipeline infrastructure, combined with energy efficiency and wide adoption of our carbon-offset program, will yield the fastest and most affordable results for our communities and the planet.
New study: Pacific Northwest Pathways to Decarbonization
Oregon and Washington have set goals for steep greenhouse gas emissions reductions, as part of an economy-wide effort to combat climate change.
These kinds of goals are referred to as "deep decarbonization" and mean an 80% reduction in carbon emissions by 2050 from a 1990 emissions baseline – even after factoring in population growth. Is this possible? And if so, how?
A new report, Pacific Northwest Pathways to 2050, by Energy and Environmental Economics (E3), shows how the natural gas system can help the region get there.
Register your account online.
View and pay bills, see gas use, and compare use over time.