How to convert your home to natural gas.
When you're ready to convert your home and enjoy the comforts, efficiencies and savings of natural gas every day, we're here for you. See the steps below to understand what you need to do, what we handle for you and what to expect along the way.
Check gas availability
Step 1
Answer the most important question: is it even possible to add natural gas to your home? Check our online availability tool to see if we serve your location, and tell us if you'll be doing new construction or converting an existing home.
Explore rebates
Step 2
Find ways to save with NW Natural rebates and special offers for residents of Oregon and Washington.
Find a contractor
Step 3
Check our select group of full service professionals who can help you switch to natural gas. We've already screened them for expertise and quality customer service, so you can trust your home is in good hands.

Your contractor will work with us directly to set up gas service line installation.
Permits
Step 4
Outdoor gas service line work requires permits, because it can interfere with the sidewalk or street. We'll get those for you. Indoor work like appliance installations can also include gas lines. Your contractor will manage those permits.


Utility locates on your property
Step 5
Once your installation order processes, we'll need to map out the route for a new gas line to your home. So if you see any paint marks in your yard, or on the sidewalk and street near your home, don't worry. They're simply indicating the location of your water, phone, sewer and electrical lines and the gas main in the street. The proposed route for your new gas service line will be white.
The marks could look like this: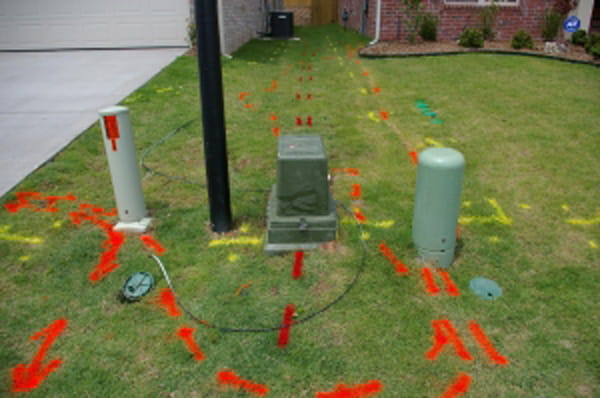 Service line installation
Step 6
Several days after we locate and mark the underground utilities, a NW Natural crew will install the service line from the street to your home and set the meter. If digging is required, we'll restore your landscaping.
Equipment installation
Step 7
Your contractor will install your natural gas equipment and connect equipment to the gas meter. (Please note the meter needs a minimum 3 feet of unobstructed space.)
Pass an inspection
Step 8
Before we can activate your meter, your contractor must obtain a permit and perform pressure tests on your new house line. A "green tag" is a passing grade, and means you're good to have your service activated. Some jurisdictions also require a final inspection of the gas equipment. Talk to your contractor for details.
Activate your gas service
Step 9
After the meter is "green tagged" and at least one piece of gas equipment is completely installed, you can call NW Natural at 800-927-6123 to turn activate your gas service. (We will need access to your equipment.) You will receive a new-customer welcome packet with time-sensitive information. An important note: Gas equipment should be used within 90 days of activation, unless otherwise agreed upon.
Register your account online.
View and pay bills, see gas use, and compare use over time.