Questions about your bills?
Starting Nov. 1, bills for most customers are going down in the short-term—mostly due to global gas prices stabilizing, as well as efficient use of NW Natural's storage facilities and pipeline network. We are happy to offer rate relief for our residential and small-commercial customers, despite continued inflation and new costs to comply with the state of Oregon's Climate Protection Plan mandates.
Get the details on this year's rates.
Ways to manage your bills
We offer a variety of resources to help manage your energy bills, such as
payment plans and free energy-saving tips
. Learn how your natural gas bill is calculated and about the information included on your bill. You can always view or print your most recent or past bills at
Payment & Bill History
.
Don't have an online account? Register your account at Account Settings. Questions about your bill? You can get answers during regular business hours by sending us an email.
How to read your natural gas bill
Follow the key below to help understand your natural gas bill each month. If you have questions about how your bill is calculated or what's included on it, please contact customer service at 800-422-4012, 7am to 6pm, Monday through Friday. NW Natural's customer service team can also assist you in additional languages by interpreter.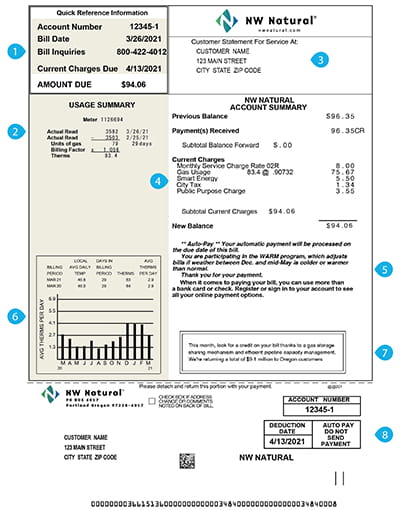 Quick reference information including your account number, bill date, due date and amount due.
Natural gas usage information for the billing period.
Service address is the physical location of where the gas service is being provided.
Account summary lists the details of your bill, such as your rate schedule, previous balance, payments received, current charges (service charge, gas usage, program enrollment fees, local taxes and the public purpose charge), and your total account balance.
Important message and ways to manage your natural gas bill.
Your natural gas use over the past 13 months (if available) and the average temperature for the current month and the same month last year. Sign in to your Account Overview to view more detailed information.
Promotion box that features messages about your service, ways to save energy, and available billing options.
If you are enrolled in Auto Pay, this is a reminder to not send a payment and when your payment will be deducted from your account.
How your gas bill is calculated
Our rates are regulated and approved by the Public Utility Commission of Oregon (OPUC) and the Washington Utilities and Transportation Commission (WUTC). The current charges on your bill are based on up to five components.
Monthly service or minimum charge
Smart Energy carbon offset program charge
Register your account online.
View and pay bills, see gas use, and compare use over time.