Cook what you love with control and convenience.
Cooking can be a daily comfort that brings families together, or simply helps us unwind from a long day. With the control and convenience of natural gas, it's never a chore. Whether it's your first time using a natural gas cooktop or range, or you're a seasoned pro cooking on the blue flame, enjoy cooking with your natural gas cooktop or range to create memorable experiences with the foods you crave.
Benefits of cooking with natural gas.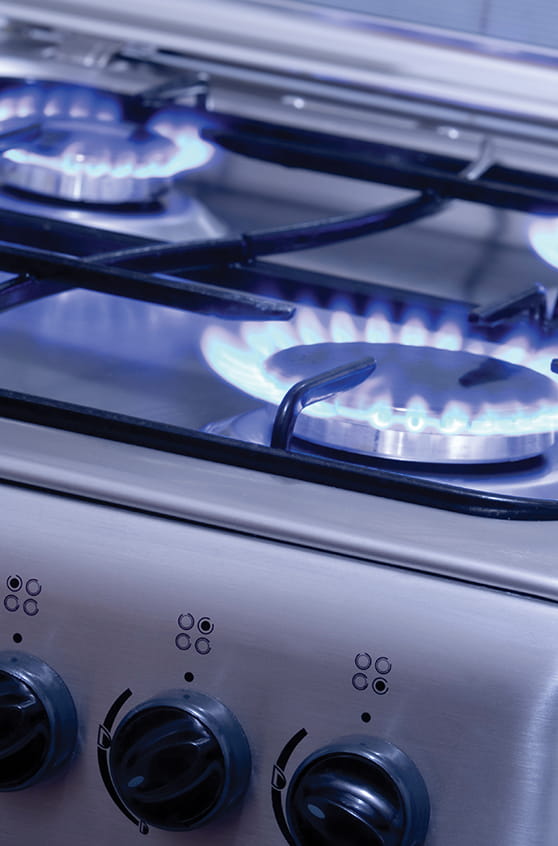 Instant on/off flame
Natural gas cooktops heat quickly, which means no waiting for the burner to grill or warm. Or turn down the heat and go from a boil to a simmer in no time.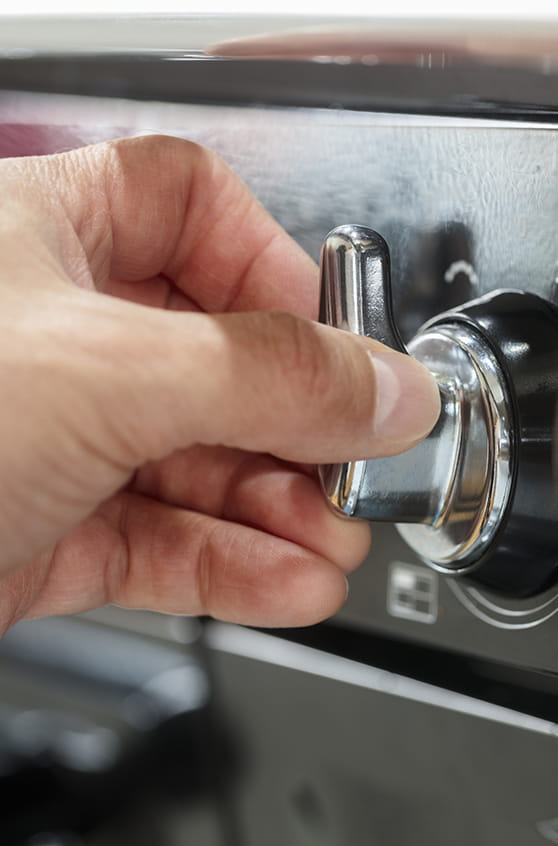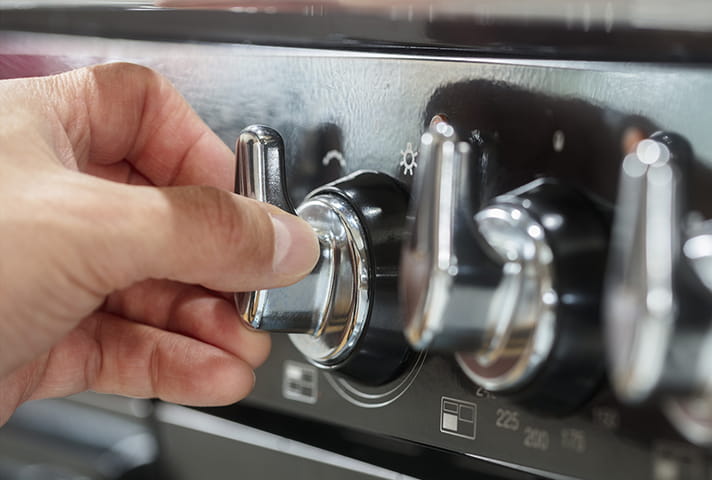 Responsive, precise control
Gas cooktops respond immediately to changes in temperature settings. Dial in on the exact heat you need with the turn of a knob.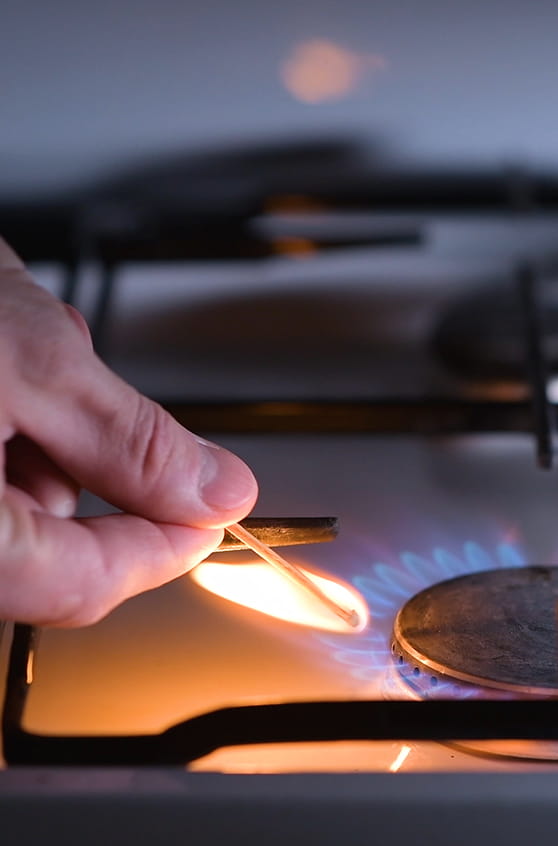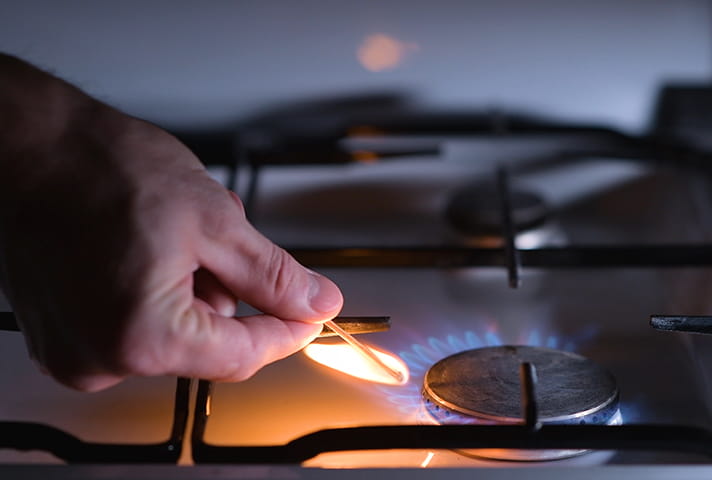 Works in a power outage
Losing power doesn't mean you have to stop cooking. By overriding the electronic ignition on the surface burners and instead lighting them with a match, you can use your gas cooktop to create a home-cooked candlelight dinner.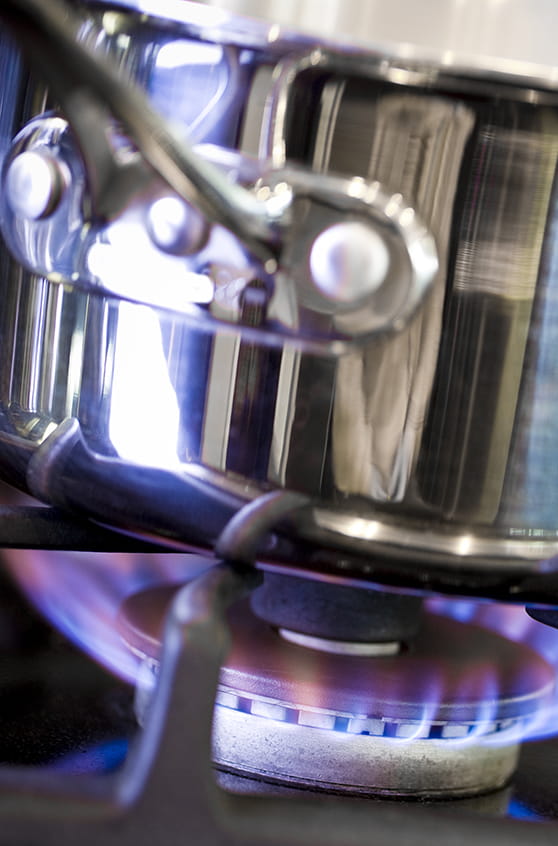 Versatile and flexible
Simmer sauces with aluminum and sear a steak with cast iron. Enjoy using a wider variety of cookware for more cooking methods.
Cook with confidence
If you're new to cooking with natural gas, welcome to the club! Check out some tips to get you started and learn how to keep your home safe and healthy while you're cooking up concoctions in the kitchen.
Getting started
Get acquainted with natural gas cooking
Light your gas cooktop according to manufacturer instructions.
While the flame is instant, pans still need to preheat. However, they will heat much faster than with a cooktop, saving you time in the kitchen.
Cooking utensils can get hot if you leave them in, on or around the cooktop while cooking.
Flames from gas won't cause burn marks on the bottom of your pan. This only happens if you get food or oil on the pan bottom, and would occur no matter what kind of cooktop you use.
Try charring a pepper or cooked corn on the cob directly over the flame. You can also heat tortillas or toast bread directly on the burner.
Good kitchen ventilation is important, so use a hood vent or exhaust fan at all times when cooking.
Cooking safety
How to cook safely with natural gas
Ranges
Keep paper towels, curtains, clothing and electric cords away from burners.
Keep burners and cooktop clean to prevent fire hazards.
If a flame on a burner goes out, shut it off, wait, then re-light.
Keep burners off when not in use.
Make sure to have good kitchen ventilation. Use a range hood or exhaust fan that vents to the outside.
What's behind recent headlines about gas stoves. Read more.
Grills
Keep grills 10 feet away from other objects.
Keep gas grills outside. Indoors, they're a fire hazard.
Check the connection between the propane tank or natural gas line to be sure it's working properly and not leaking.
Indoor air quality tips
Indoor air quality
Many of us are spending more time at home indoors. Many factors contribute to indoor air quality, such as building materials, cleaning products and the food you cook.
Using a gas or electric cooktop, especially frying, broiling and other cooking at high temperatures, can produce pollutants. Using a toaster can too.
It's important to have good kitchen ventilation each time you cook. Exhaust fans remove emissions directly at the stove before they mix into surrounding air.

Fans also increase overall air exchange in the home to remove pollutants from indoor air.

Use a range hood or exhaust fan that vents to the outside. If your range hood recirculates air back into the kitchen, you should open windows or use an exhaust fan in another room while cooking.

All gas kitchen appliances should be installed in accordance with local codes, maintained in good working order and periodically inspected by a qualified contractor.

Schedule a once a year for a no-cost annual equipment inspection to make sure all your natural gas appliances are operating the way they should.
We also recommend installation of carbon monoxide and smoke detectors in every household. Contact your state fire marshal's office for more information.
Ventilation Resources
Our energy efficiency partner, Energy Trust, provides a list of contractors that can perform an assessment and installation of ventilation solutions.
Resources for our low-income customers
NW Natural's weatherization partners evaluate ventilation needs as part of the holistic approach to whole home efficiency. Funding from NW Natural supports this work to address ventilation alongside efficiency improvements and weatherization. Qualified customers should reach out to their local agency.
Register your account online.
View and pay bills, see gas use, and compare use over time.